The Broadway Belt: the musical diva and her belt voice from technical, ethnic, and feminist perspectives
Schlagworte:
Gesang, Belting, Broadway
Über dieses Buch
This dissertation presents an analysis of the musical belt voice, especially the belt sound and its necessary vocal technique, and examines the unique actor's personage of the elite female Broadway musical performer. Discourse about the status of the Broadway Belt as "star" and "diva," as well as her public reception, strongly suggest a feminist perspective. Through belting out in feminist roles on stage and speaking out on related issues offstage, she contradicts gender preconceptions. A focused discussion on African-American belters and their roles sheds light on the intersectionality of racism and anti-feminism in Broadway musical theatre. Finally, the study presents a musical analysis of "Rose's Turn" in Gypsy alongside a case study of the character Rose, one of the most influential roles for a Broadway Belt. This monograph advocates the creation of new musicals as star vehicles for Broadway belters — of any ethnicity and gender — as indispensable to guide Broadway musical theatre into its platinum age. Christin Bonin accomplished her 2020 Ph.D. in Theatre Studies, following an MA in Musicology. She has appeared on stage at the Bavarian State Opera and publishes method books as a certified voice teacher. Bonin continues to sing jazz, pop, and musical theatre.
Die Druckausgabe können Sie direkt über den Olms Verlag oder über buchhandel.de erwerben.
Downloads
Keine Nutzungsdaten vorhanden.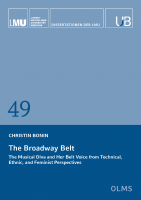 Downloads
Kategorien
Lizenz
Copyright (c) 2022 Christin Bonin
Dieses Werk steht unter der Lizenz Creative Commons Namensnennung 4.0 International.