Hunger and Modern Writing: Melville, Kafka, Hamsun, and Wright
Schlagworte:
Allgemeine und Vergleichende Literaturwissenschaft, Amerikanistik, Skandinavistik, Modernität, Literaturwissenschaft, Philosophie, Hunger, Subjektivität, Isolierung, Entfremdung, Autorschaft
Über dieses Buch
Hunger is a contentious theme in modernist literature, and this study addresses its relevance in the works of four major American and European writers. Taking an in-depth look at works by Melville, Kafka, Hamsun, and Wright, it argues that hunger is deeply involved with concepts of modernity and modern literature. Exploring how it is bound up with the writer's role in modern society this study draws on two conflicting and complex views of hunger: the first is material, relating to the body as a physical entity that has a material existence in reality. Hunger, in this sense, is a physiological process that affects the body as a result of the need for food, the lack of which can lead to discomfort, listlessness, and eventually death. The second view is that of hunger as an appetite of the mind, the kind of hunger for immaterial things that is associated with an individual's desire for a new form of knowledge, sentiment, or a different way of perceiving the reality of the world. By discussing the selected authors' conceptualization of hunger as both desire and absence of desire, or as both a creative and a destructive force, it examines how it has influenced literary representations of modern life. This study then offers a focused approach to a broad field of inquiry and presents analyses that address a variety of critical perspectives on hunger and modern literature.
Downloads
Keine Nutzungsdaten vorhanden.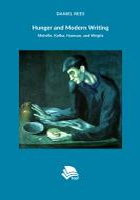 Kategorien
Lizenz
Copyright (c) 2016 Daniel Rees
Dieses Werk steht unter der Lizenz Creative Commons Namensnennung 4.0 International.